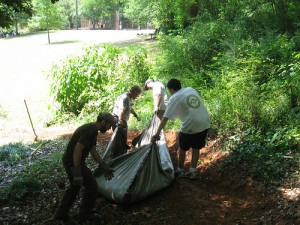 The Land Trust is having a Work Day this Saturday from 2-5 to do some "Spring cleaning".
---
Trees Atlanta will be planting in Lake Claire on March 22 from 9-12. Meet at the park. Gloves, shovels and instruction provided. No experience needed.  This is a wonderful opportunity to help beautify the neighborhood at no cost.
---
Mary Lin PTA and 5th Grade Council will be having the 2nd Annual service day at Epworth United Methodist Church on Saturday, March 15th from 9am-1pm. At this time we will be making lunches for a local homeless shelter.  We will be happy to accept food or monetary donations to purchase the food in your absence but we would rather have your helping hands on that day as well. If you have any questions please feel free to contact Valarie Tutuh at vtutuh@gmail.com or Michelle Partridge at mpartridge@atlanta.k12.ga.us.
---
HELP NEEDED IN THE Mary Lin GARDENS.
Friday 21 March – 2.30pm, after pick-up, at the Garden Beds. Please bring a shovel and help us dig under the winter cover crops, ready for summer planting.