The Wylde Center Hosts the Second Annual Mulberry Fields Gone Wylde July 15
Something fun and local to do in July: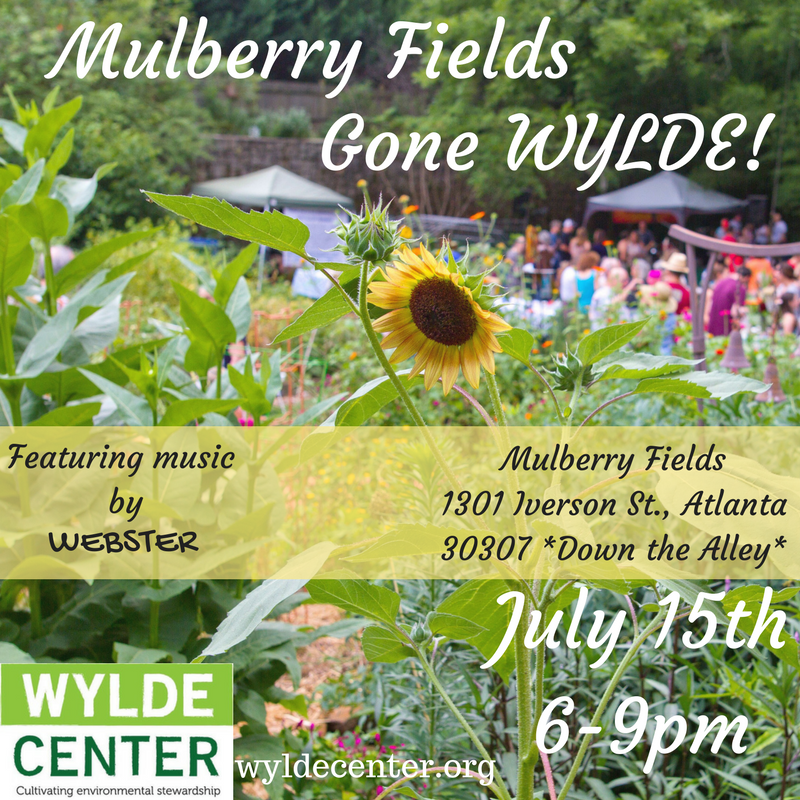 ATLANTA – The Wylde Center, one of Atlanta's premier environmental organizations, will host the second annual "Mulberry Fields Gone Wylde" on Saturday, July 15 from 6 to 9 p.m. The festive outdoor evening will feature live music by Webster, food and drinks for purchase from Fox Brothers and other vendors, children's games and much more. After sunset, the Chickabilly, a metal sculpture/fire bowl will be set ablaze. The event is free for Wylde Center members and children 12 and under, and $10 for non-members. Mulberry Fields is located "down the alley" at 1301 Iverson St., Atlanta, GA 30307 in Candler Park. Mulberry Fields Gone Wylde will be held rain or shine and is sponsored by the Candler Park Neighborhood Organization, Premier Grease, Small Business Services and the Harris Bathrick Basch family. Proceeds will benefit Mulberry Fields. For more information and to purchase tickets, visit http://wyldecenter.org/mulberry-fields-gone-wylde-2017.
"The Wylde Center was honored to take assume the management of this special greenspace last summer," said Stephanie Van Parys, executive director of the Wylde Center. "Mulberry Fields is considered a sister garden to the Wylde Center's Oakhurst Garden, and the two gardens share a similar history. In fact, Mulberry Fields' co-founder, Jesse Bathrick, was a close friend of our late co-founder, Sally Wylde. Like Oakhurst Garden, Mulberry Fields came about because a group of neighbors wanted to preserve this special property for the enjoyment of the community. They have done a remarkable job creating and maintaining this one-acre oasis in Candler Park, and now the Wylde Center is excited to help take their garden to the next level."
About The Wylde Center
For two decades, the Wylde Center has been growing, educating and greening. From the seed of an idea in 1997, the Wylde Center has blossomed into an environmental organization that oversees five distinctive greenspaces, conducts a year-round educational program for all ages, hosts social events and delivers farm to school programming in Decatur and Atlanta schools. Staff and volunteers engage children, families and individuals in activities designed to develop creative skills in sustainable urban living, organic gardening, health and nutrition. Despite its robust growth, the Wylde Center has stayed true to its original mission of cultivating vibrant greenspaces for everyone to enjoy, and inspiring communities of environmental stewards. The Wylde Center is supported by memberships, donations, volunteers and grants. It's never been a better time to get involved with this homegrown environmental resource! Visit www.wyldecenter.org for more information.