As a thank you for remembering to Pay Your Dues (only $20!) and/or signing up for our mailing list, LCN is offering you an opportunity to win a pair of free tickets to one of the following shows!
To enter (after you pay your dues and/or sign up for our list, if you haven't already of course!) email comm@lakeclaire.org with the subject "Concert Contest" and your name, that's it!  You're not required to pay/join to enter, but we'd certainly appreciate it.  And thanks to City Winery for the tickets!
---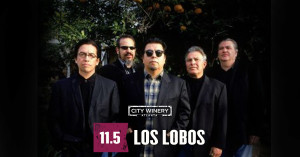 Los Lobos w/ T. Hardy Morris 11/5
SUNDAY, NOVEMBER 05 2017 6:00PM DOORS / 8:00PM START
SunNov05
Los Lobos w/ T. Hardy Morris 11/5
at City Winery Atlanta
Doors:6:00pm
Starts:8:00pm
Los Lobos were already East L.A. neighborhood legends, Sunset Strip regulars and a Grammy Award winning band (Best Mexican-American/Tejano Music Performance) by the time they recorded their major label debut How Will The Wolf Survive? in 1984.
Although the album's name and title song were inspired by a National Geographic article about real life wolves in the wild, the band—David Hidalgo, Louie Perez, Cesar Rosas, Conrad Lozano and Steve Berlin—saw parallels with their struggle to gain mainstream rock success while maintaining their Mexican roots. Perez, the band's drummer, once called their powerhouse mix of rock, Tex-Mex, country, folk, R&B, blues and traditional Spanish and Mexican music "the soundtrack of the barrio." Three decades, two more Grammys, a worldwide smash single ("La Bamba") and thousands of rollicking performances across the globe later, Los Lobos is surviving quite well — and still jamming with the same raw intensity as they had when they began in that garage in 1973. The band chronicles a key moment of their expansive journey on Disconnected In New York City, a dynamic live album that marks the band's 40th anniversary and launches their new association with 429 Records.
---
Louis Prima Jr. w/ Gwen Hughes 11/14
at City Winery Atlanta
Doors:
6:00pm
Starts:
8:00pm
About:
Louis Prima Jr. and the Witnesses (louisprimajr.com) are bringing Prima music into the 21st century. Not content to sit on the legacy they so passionately protect, LPJ and the band are taking a page from his father's playbook, by wailing Prima Swing like it's 2016.
Less concerned about reliving the past than about creating a future for it, Louis Prima Jr and the Witnesses bring new energy and a current attitude to the masses with The Wildest Show this side of the 1960's. Since their breakout performance at the New Orleans Jazz and Heritage Festival (aka Jazz Fest), #TeamPrima has performed everywhere from Seattle to Palermo, from small clubs to performing arts centers, from casino showrooms to music festivals, and from Access Hollywood Live to PBS.